Breath of Yesterday: ab sofort erhältlich!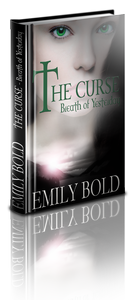 Liebe Leserinnen und Leser, ich freue mich riesig, dass ab sofort der zweite englischsparchige Band der The Curse-Reihe "Breath of Yesterday" erhältlich ist. Sowohl Band 1 als auch Band 2 ist bei Amazon und auch bei Barnes & Noble als Taschenbuch erhältlich.
The Curse – Breath of Yesterday is the second volume in Emily Bold´s mystical series about Samantha Watts and Payton McLean, a cursed Scotsman from another era.
After winning the battle to break a centuries-old curse, Samantha and Payton thought nothing could stand in the way of their happiness. But all too soon they learn the horrifying truth: Their struggle to keep Payton alive has only just begun. Samantha ventures into the past, back to eighteenth-century Scotland where it all began—and back into the arms of Payton, the handsome young Highlander who stole her heart. Will they unlock the secret to the legend of the five sisters in time to make their dreams come true?
The Curse – Breath of Yesterday, 376 Pages in print
The book is available as Kindle-Edition, Paperback & MP3-CD Audiobook here: amazon.com and amazon.co.uk. Paperback is available at Barnes & Noble
You can join Payton and Sam at thecurse.de, too!